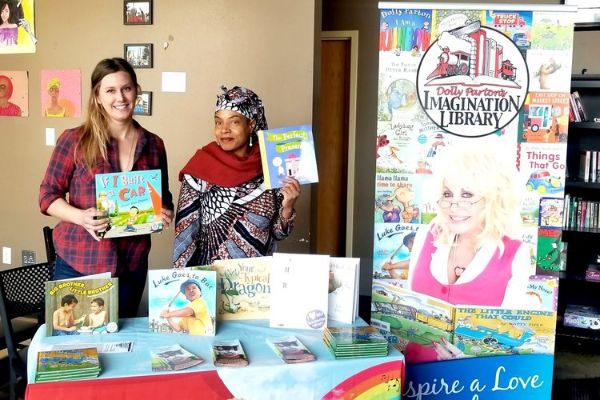 Mission:
To increase access to age-appropriate books and promote kindergarten readiness
Core Values:
Community
Collaboration
Integrity
Sustainability
Goals:
To expand to the entire Denver area. The cost of a city-wide program is approximately $1.5 million dollars.
From a Parent:
"Dear Paradies Lagardere,
Thank you for sponsoring the Dolly Parton Imagination Library. My son absolutely loves his Dolly Books and I can see them helping to facilitate a love of reading. A recent book, "I just want to Say Goodnight' made him jump out of bed with excitement. When he recognized himself in the character and opened up a whole new way to enjoy reading. Thank you for supporting this great program!"

- The Bernstein Family
"Children with as few as 25 books in the home complete on average 2 more years of schooling than those with no books"
— - Governor's Books from Birth Foundation
ABOUT
In 1996, Dolly Parton launched an exciting new effort, Dolly Parton's Imagination Library, to benefit the children of her home county in Sevier County, Tennessee. Dolly's vision was to foster a love of reading among her county's preschool children and their families by providing them with the gift of a specially selected book each month.
By mailing high quality, age-appropriate books directly to their homes, she wanted children to be excited about books and to feel the magic that books can create. Moreover, she could ensure that every child would have books, regardless of their family's income. 
Making A Difference:
Dolly's Imagination Library became so popular that in 2000, she announced that she would make the program available for replication to any community that was willing to partner with her to support it locally.
Since the initial program launch in the United States, Dolly Parton's Imagination Library has gone from just a few dozen books to more than 60,000,000 books mailed to children in the United States, Canada, and across the proverbial pond to the United Kingdom, and Australia!
Currently, more than 1,600 local communities provide the Imagination Library to more than 750,000 children each month.
Already statistics and independent reports have shown Dolly Parton's Imagination Library drastically improves early childhood literacy for children enrolled in the program. Further studies have shown improved scores during early literacy testing.
Currently, the Imagination Library of Denver is serving eligible children residing in 80205, 80220 and 80211 area code. Once more funding is secured, we will expand our registration area.  Imagination Library of Denver is independently funded & does not receive monetary support from The Dollywood Foundation. The Dollywood Foundation provides every affiliate with important infrastructure to make sure each program is efficient and cost-effective. 
This program exists because community members, businesses, and organizations support early childhood literacy programs. We continue to fundraise to mail books to any eligible child in Denver, expand our service area and make sure the program is funded in perpetuity.
Imagination Library of Denver Facts:
Launched in Denver 2015, with 4 volunteer board members
Denver pilot program started with 30 children at Family Star Montessori
24,000 books mailed as of January 2020
'Graduated' more than 730 children
Created the original Denver Grilled Cheese Fest as our signature fundraiser
Moved to Mile High United Way building co-working space Sept 2019
Launched 4th zip code, 80216, in January 2020
Partnered with Two Doors Down Productions for Dolly Day Denver, the world's first record of most people dressed like Dolly Parton

Thank you to our Legacy Partners:
Paradies-Lagardere
Sewald Hanfling